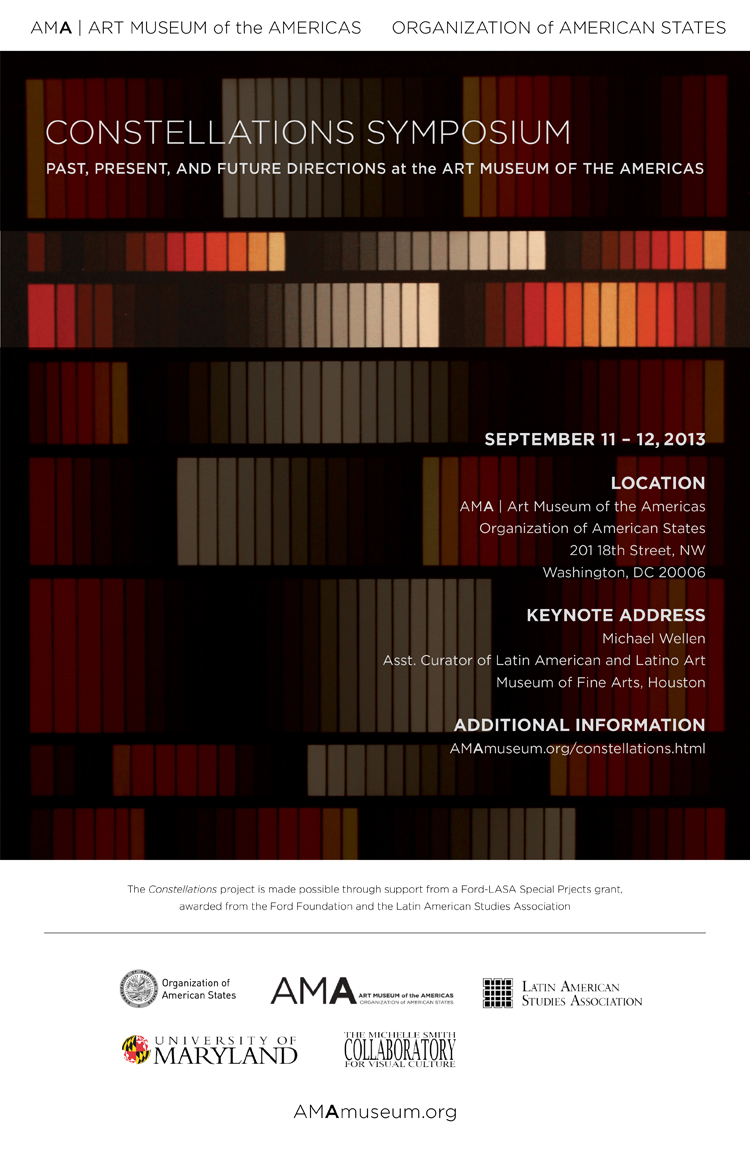 CONSTELLATIONS
PAST, PRESENT, AND FUTURE DIRECTIONS AT THE ART MUSEUM OF THE AMERICAS
SEPTEMBER 11-12, 2013
AMA | ART MUSEUM OF THE AMERICAS
This program is FREE and OPEN to the public. No registration is required.
Wednesday, September 11
AMA | Art Museum of the Americas
Keynote Lecture
6:00–7:30 pm
Andrés Navia
Director
AMA | Art Museum of the Americas
Welcome
Abigail McEwen
Assistant Professor
Department of Art History and Archaeology
University of Maryland
Introduction
Michael Wellen
Assistant Curator of Latin American and Latino Art
Museum of Fine Arts, Houston
On Dark Matter
Dinner (for participants)
8:00 pm
Boqueria
1837 M Street NW
Washington, D.C. 20036
Thursday, September 12
AMA | Art Museum of the Americas
Morning Session
10:00 am–12:30 pm
Abigail McEwen, moderator
University of Maryland
Andrés Navia, Abigail McEwen, and Adriana Ospina
Constellations at AMA
Elena Jackson Albarrán
[Miami University of Ohio]
Volcanoes, Piñatas, and the Revolutionary Nationalist Aesthetic: Mexican Child Artists as Inter-American Cultural Diplomats, 1930s
Beth Matusoff Merfish
[University of Colorado, Denver]
"The metal shavings that fell from his plates:" José Guadalupe Posada as Regional and (A)political Context for Leopoldo Méndez's 1945 Art Institute Exhibition
Luis M. Castañeda
[Syracuse University]
Curves of Subversion: Tropicality at War at the 1939 New York World's Fair
Olga Herrera
[George Mason University]
Of Art and Intellectual Cooperation: The Pan American Union 1936-1948
Lunch
12:45-1:45 pm
Loggia
Afternoon Session
2:00–4:00 pm
Adriana Opspina, moderator
AMA | Art Museum of the Americas
Caroline D. Shields
[University of Maryland]
José Luis Cuevas and the Art of Performance
Alessandro Armato
[IDAES-UNSAM]
"Monstruos desde el sur:" La construcción de la Neo-figuración como tendencia artística en Latinoamérica (1954-1965)
Alexandra Mesa Mendieta
[Universidad Autónoma de Madrid]
José Gómez Sicre, Alejandro Obregón y Marta Traba: Coleccionismo público de arte moderno en Colombia (1948-1965)
Laura Demaría
[University of Maryland]
Painting Beyond the Center/Periphery Axis: A Critical Approach to the Project Argentina pinta bien
4:15–5:00 pm
All symposium participants are invited to a reception in the Loggia.